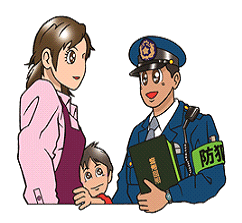 Officers assigned to the police box in your neighborhood have been making door-to-door visits called "junkai renraku". Junkai renraku is a means for the police to inform you of crime and accident prevention in your neighborhood by visiting each house or office in person. We also welcome any feedback or questions you may have for the police.
Please fill out a "Resident Information Card"

 We hand over a "Resident Information Card" to you or leave it at your house on our first visit. We ask you to take the time to fill out the card for information we may need in case of an emergency.
Benefits from a "Resident Information Card"
 For instance, in such cases as
 - you suffer from a fire or a natural disaster including earthquake, or
 - you become a victim of a crime or an accident,
the police can promptly and appropriately contact your family members according to the information contained in the card.
 Resident Information Cards, as a part of junkai renraku or community policing in general, will derive more benefits for secure and safe community and better community-police relationship. We will appreciate if you understand the point and fill out the card.
Tokyo Metropolitan Police Department
情報発信元
警視庁 地域指導課 実務指導第三係
電話:03-3581-4321(警視庁代表)